From organic compounding to blending dyes, chemical processing operations span a broad range of industrial categories, at every stage throughout the supply chain. As critical suppliers to nearly every manufacturing and industrial segment, chemical processors rely on expertise within their own operations to reliably address the demands of their manufacturing applications. With over 30 years of experience and a deep understanding of both the practical reality and scientific underpinning of mixing requirements for chemical processing, Brawn Mixer brings expertise beyond general-application mixer specifications so common in the mixing industry.
Mixer Solutions
B Series Portable Mixers: ⅓ - 5 HP heavy duty mixers
M Series Portable Mixers: ⅓ - ¾ HP medium duty mixers
BTO/BTR Series Industrial Mixers: High capacity industrial mixers
Side Entry Mixers: Gear- or belt-driven configurations available
Brawn Mixer Advantages
Application Engineering Expertise
The Brawn Mixer application engineering group is tightly integrated at each step in the sales and order process, from initial specification review to design and testing. Brawn Mixer application engineers recommend solutions based on customer requirements, specifications, and objectives, while keeping in mind other considerations like budgetary requirements. Additionally, the applications group has the capability to perform bench and pilot scale mixing tests in order to scale-up to production levels.
Controls and Automation
Many chemical processing applications demand a high level of process control, or have mixing components that require independent or integrated controls packages. The Brawn Mixer control engineering team works closely with our UL-listed panel build shop to design and build the proper control solution for accurate, repeatable mixing results, every time. From NEMA-rated enclosures, to menu-driven touchscreen HMIs, Brawn Mixer has the resources to help you achieve your process goals.
Data Reporting and Integration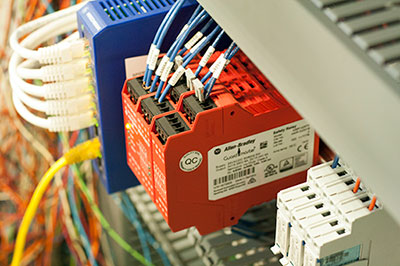 Brawn Mixer can integrate with local process equipment, or with facility-wide SCADA systems, to improve process control and real-time reporting. Increasingly, isolated islands of equipment are being replaced or upgraded with integrated systems that deliver greater performance. Brawn Mixer agitators can be configured to interface with these systems with minimum complexity. The Brawn Mixer installation and service team can provide onsite support for startup and commissioning requirements.
Modular Platform
The Brawn Mixer modular platform is a flexible process package for many applications in the chemical industries, enabling Brawn Mixer engineering to deliver both standard and engineered-to-application mixing solutions with competitive pricing and delivery.
This method also allows organizations to easily service and repair mixers, maximizing uptime and reducing the number of required in-stock spare parts.